International Symposium on Enlightened Princesses in Europe 1700-1820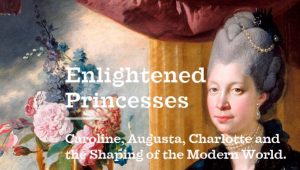 Followers of the Georgian Papers Programme will probably be interested in the Symposium on Enlightened Princesses to be held at Kensington Palace, Hampton Court and the Tower of London between 29 and 31 October. This conference accompanies the splendid exhibition currently taking place at Kensington Palace (highly recommended if you have not seen it – it runs until 12 November). There are still a few places left at the symposium; anyone who would like to secure a place should visit the symposium website. The Georgian Papers Programme will be making a short presentation at the symposium on 30 October.
Here is the outline for the symposium:
Caroline of Ansbach (1683-1737) , and Charlotte of Mecklenburg-Strelitz (1744-1818), three Protestant German princesses, became variously Princess of Wales, Queen Consort, and Princess Dowager of Great Britain. Recent research has explored how in fulfilling these roles they made major contributions to the arts; the development of new models of philanthropy and social welfare; the promotion and support of advances in science and medicine; as well as trade and industry; and the furthering of imperial ambition. While local contexts may have conditioned the forms such initiatives took, their objectives were rooted in a European tradition of elite female empowerment.
This symposium, Enlightened Princesses: Britain and Europe, 1700-1820, will bring together eminent academicians and museum scholars to investigate the role played by royal women – electresses, princesses, queens consort, reigning queens, and empresses – in the shaping of court culture and politics in Europe of the long eighteenth century.
Papers will explore the following themes:
Royal women as political agents
Royal women: networks and conversations
Royal women as patrons of art and architecture
Royal women and the crafting of image
Royal women: engaging with technology and nature
The programme:
Leave a Reply
You must be logged in to post a comment.