A Royal Christmas List
Robert Paulett, OI-GPP Fellow, shares this discovery from his recent work in Royal Archives.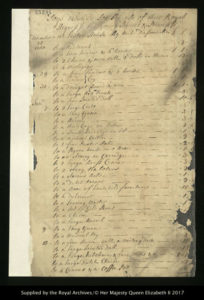 As the holiday shopping season intensifies in these last weeks, it is always tempting to wonder whether you should buy less. Should your non-plussed children balk at such an idea, you can cite as precedent the Christmas present list from the household of Frederick, Prince of Wales, son of George II and father to the future George III.
Young George and his six siblings received a very modest haul indeed in the year 1750, receiving courtesy of toymaker Michael Dassonville only "a Red trunk" "a fine Landau [toy carriage] & 6 horses" "2 Chairs… with Dolls in them" and "4 whirligigs." These all arrived right on Christmas Day, Dec. 25. And only a few modest packages arrived in the ensuing twelve days. (Source: "Toys Deliver'd for the use of their Royall Highness'ss [sic] the young Princes & Princess'ss at Lester [sic] House by Mich. Dassonville," Royal Archives GEO/MAIN/55246)
Not very much for a royal household. You need not tell your children, of course, that these were unlikely the total presents delivered that year. Nor need you show them the rather more impressive list of toys arriving the morning after Twelfth Night:
                  2 large Carts
                  A Long Gunn
                  A Bureau
                  A Bird Cage on Bellows [an automated toy bird that "sang"]
                  A small Bird Cage on bellows
                  A musical Castle
                  2 fine Pewter Potts
                  A Pigeon house in a Boxe
                  An Armey on Cariadge
                  2 large Brass Canons
                  2 ivory tea totums
                  A Aarons Bells
                  A Dutch tauper
                  A Boxe of household furnitures
                  A Dulcimer
                  A fencing Master
                  A Set of Gild Penns
                  A Charm
                  A large Barril
What child doesn't dream of getting their own large barrel?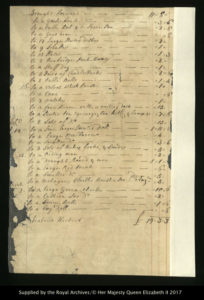 Kidding aside, what is interesting in these lists is how they reveal the House of Hanover's continued role in reshaping the traditions of Christmas throughout the eighteenth century. George I reintroduced Christmas puddings to the dinner table, after all. Queen Charlotte brought the Christmas tree to court. And Frederick apparently decided to expand the small gift-giving normal to the season into an extravagant parade of spinning, singing, and chiming toys for his children, while still honoring the traditions of the age by waiting until Christmas was officially over before bestowing that bounty on his children.
One Response
Leave a Reply
You must be logged in to post a comment.