Gender and the Georgian Papers
Samantha Callaghan, Metadata Analyst, King's Digital Laboratory

---
What information do we need to know about someone so that we are easily able to tell them apart from someone else if they were described to us? Name, age, where they were born? If both people have the same name, for example, J. Smith, and suppose they were born in the same hospital on the same day, what other additional information would you need then to tell them apart?
Within the information management sector and elsewhere we create authority files that allow us to do two things:
Have a limit on the canonical form of a person's name that we use – so that we don't end up with a proliferation of spellings, initials or full names for the same person (or other type of entity

);

Disambiguate between people so that when we say the author of a piece of work was J. Smith, we are indicating the correct J. Smith.
Georgian Papers
The current shape of Georgian Papers digitisation being undertaken by the Royal Archives is as follows: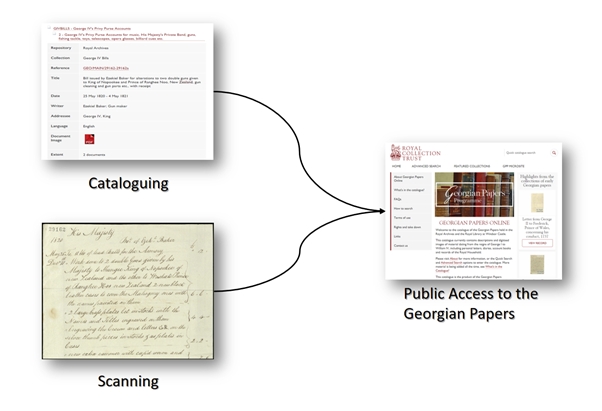 The material is catalogued, i.e. described with reference to its content and to those who created, received or are mentioned within the works

The material is scanned

The catalogue information and the digital images are made available to the public via the Royal Collection Trust's website
The work that King's Digital Laboratory is doing, in association with academics both in the UK and on the other side of the Atlantic, intends to enrich and build upon the work of the Royal Archives by providing further ways to engage with the material, examples of which include subject indexing and entity authority files. This work is currently being tested through the development of a technical proof of concept.
Entities currently being explored within the proof of concept include people and organisations. To help answer the questions posed above, for personal entity files, we have included information, where available, around birth and death dates, places of birth and death, names used (and when used), external sources used to create the files, biographical information from Wikipedia using their Creative Commons licence (CC BY-SA) and so on. These provide avenues by which researchers can build their understanding, filter by particular fields according to their own research needs, and, in the future, contribute to the knowledge encoded for these individuals.
While any attempt to comprehensively reflect the search terms users may opt for over time is ultimately doomed to failure, the aim of the Programme is nevertheless to attempt a level of future proofing in its work on enrichment. It is in this context that the subject of gender identity has been approached.
Gender
In 2017 I attended, remotely, a conference on Race, Memory and Digital Humanities held at the College of William and Mary. Prior to attending the conference I had already been thinking about gender in relation to the material of the GPP.
Gender is another lens through which the people of the Georgian Papers may be seen and thus space has been included within the proof of concept to capture this information also. Ann Little, an Omohundro Institute Fellow, spoke at one of the regular Programme coffee mornings regarding her research on Women's Fashions on both sides of the Atlantic during the Revolutionary Period. It was clear that Ann and other scholars would find it useful to be able limit their searches of the entity authority files by gender.
Also, it was apparent from the outset that it would be essential that the terms used for gender would need to be more inclusive beyond just the usual binary terms. A panel on Queer Digital Humanities at the conference demonstrated that space outside the binary needs to be made, and in a non-prescriptive way. It is also imperative to understand that gender is not necessarily fixed and that "many people take on fluid and malleable gender identities."[1] I am cisgender  but have been following the varied discourses relating to gender amongst online communities, specifically on Tumblr, for years and know a number of people, friends and colleagues, who have come out with regards to their gender identity (and preferred pronouns in a lot of cases). With this knowledge it is clear that to fall back into binary descriptions for gender would be regressive and, in some cases, tantamount to erasure, a widespread problem among many archives which is recognised by those that are marginalised within them. It has been found that there is more variety beyond the binary among our histories, both within the 'Western' world (such as Chevalier d'Éon) and without (for example, Fa'afafine and Whakawahine).
The nature of the structured information about the Georgian Papers, or 'metadata,' however sets a limit in how we describe gender. For preference, when providing short descriptive terms for a particular field, we often use controlled vocabularies and/or thesauri. The primary purpose of using these types of vocabularies is to ensure consistency in term usage; minimising proliferation of term spellings, pluralisation, inconsistent case use and so on, for example, 'Woman' 'Women' 'woman' 'womyn.'
There are several controlled vocabularies that are available for the description of gender. They were informally assessed according to the following criteria:
Terms included/not included;

Language used within the vocabulary; and, to some small extent,

The communities/organisations that created the vocabulary.
After consideration we chose to use the Homosaurus. The language the vocabulary uses is inclusive, it has a comprehensive set of terms to describe gender (although, as with most controlled vocabularies, there is room for improvement!), it includes non-European language/culture terms, and was derived and built by IHLIA, an information centre and archive for LGBT heritage in Amsterdam. Other controlled vocabularies, such as the Medical Subject Headings (MeSH), while widely used within the Information Management community, was relatively narrow in scope for this area of knowledge and used language that was, understandably, more clinical.
It must be acknowledged, in addition to the limitations imposed by the use of controlled vocabularies, that it may be problematic to assign gender or categorise people from a modern perspective and using modern terminology. Self identification in relation to gender is a current hot topic but in the context of historical material cataloguers may be left in a quandary by a lack of self-identification evidence.
The inclusion of gender as a facet within the metadata for the Georgian Papers Programme ties into a greater push within the field of Digital Humanities to #transformDH and "reassert the human in humanities." Recognising and revealing the nuances of those whose words, art, and objects, we hold and research is part of our shared remit to show a "duty of care to the people of the past."[2]
Acknowledgements
I would like to thank [2]Scary and [1]Cerys for their kindness when sense checking this post and offering much useful feedback. Ngā mihi mahana ki a kōrua mō tō kōrua tautoko. Kia ora.
Leave a Reply
You must be logged in to post a comment.