Mapping the Georgian World: video now available!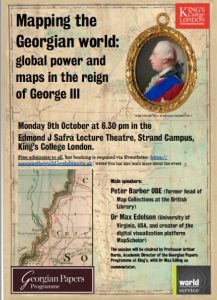 We are delighted to announce that you can now watch a video-recording of the richly-illustrated event on 'Mapping the Georgian World – Maps and Power in the reign of George III' which was delivered to an enthusiastic audience at the 2017 Arts and Humanities Festival at King's College London on 9 October 2017. The main speakers are Peter Barber and Max Edelson. We are very grateful to the Arts and Humanities Research Institute at King's College London for making this available, James Howard in King's AV and to Professor Edelson for his help in synchonizing his presentation with the recording. To watch the recording, click here.
Leave a Reply
You must be logged in to post a comment.