Jane Austen and the Prince Regent: The Very First Purchase of an Austen Novel
During his time in the Royal Archives, Omohundro Institute Georgian Papers Programme fellow Nicholas Foretek found exciting new evidence that the first documented purchase of any novel by Jane Austen was made by none other than the Prince Regent (later George IV).  Moreover, the purchase—of Sense and Sensibility—was made two days before the book was advertised as being on sale at all. This is unknown in any previous Austen scholarship. The following is his initial report on his research.
by Nicholas Foretek, University of Pennsylvania
It is a truth universally acknowledged that the Prince Regent, the future King George IV, achieved celebrity more for his salacious personal life and tremendous debts than his literary acumen. Yet while his exploits resembled the behaviour of a Mr. Wickham far more than a Mr. Darcy, a recently discovered bill in the Royal Archives reveals the Prince to be perhaps the earliest documented purchaser of a Jane Austen novel. On 28 October 1811, two days before the first public advertisement for Sense and Sensibility, the Prince Regent purchased a copy of Austen's debut novel from his booksellers, Becket & Porter, for 15 shillings.
The Prince's appreciation for Austen's work has been long established in Austen lore, stemming from an anecdote recorded by her nephew concerning the dedication of Emma to His Royal Highness in 1815.  Austen's brother Henry fell ill that year and engaged Matthew Baillie, then also the Prince Regent's physician, who arrived to find Henry tended by his sister. According to A Memoir of Jane Austen (1869), Jane received compliments from Baillie on behalf of the future King, which explicitly indicated the Prince had read her novels with delight, and kept copies of them in each of his residences.[1]  As recompense for the Prince's pleasure of perusal, Austen received an invitation both to tour the Carlton House library and to dedicate her forthcoming work to his royal person. Should that not prove satisfying enough, the Reverend James Stainer Clarke, officious librarian to the Prince and anointed tour guide, twice suggested plots he hoped Austen might take it upon herself to write.[2]  Thankfully, Austen parried the propositions.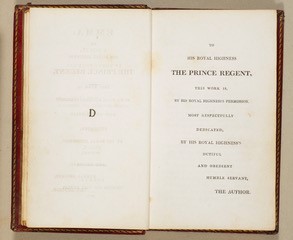 Lest the Prince Regent's overture appear mere flattery, his purchase of Sense and Sensibility in 1811 is perhaps the earliest known transaction of any Austen novel. The transaction predated the book's first public announcement in The Star on 30 October.[3]  This was all the more remarkable because the book was not immediately a hit. It took more than three months before well-known review publications like the Critical Review and the British Critic began to enthuse about Austen's first publication and the work did not sell through its first print run, likely between 750 and 1,000 copies, until the summer of 1813.[4]
In 1811, Austen and her brother came to an agreement with the publisher Thomas Egerton, whose publishing business tended toward military and political works, to publish her first novel. Austen assumed the burden of publication costs, while outsourcing distribution and sales to Egerton on commission.[5]  From his Whitehall shop, Egerton presumably engaged Becket & Porter in Pall Mall, well-known purveyors and publishers of foreign works and novels, as selling agents.[6] Thomas Becket, "Bookseller to the Prince of Wales" since 1786, then charged a copy to his patron the Prince.
Becket had supplied the Prince for many years, providing large numbers of books and magazines intended for the Prince's ruinously expensive Carlton House. A 1787 letter from the future King to William Pitt concerning his debts lists £289 (2018 equivalent: £34,000) due to the bookseller alone.[7]  In addition, Becket functioned as a sort of informational clearinghouse for friends and political allies.[8]  The bookseller's familiarity with his client's taste for novels likely spurred the transaction, as other bills indicate a steady stream of recently released novels charged to the Prince. These included some whose literary quality has not withstood scrutiny as successfully, including the following listed on the same bill alongside Austen's work: Monk's Daughter, Capricious Mother, and Sicilian Mysteries.
In the event, Sense and Sensibility seems to have been both read and enjoyed. Over the coming years, the Prince's interest in Austen did not abate. Though his copies of her work never came so advanced again, the Prince reliably purchased her novels. According to bills presented by the booksellers Becket & Porter and Budd & Calkins, the Prince bought two copies of Pride and Prejudice in 1813 alongside a second copy of Sense and Sensibility.[9]  He bought Mansfield Park in 1814. His gift copy of Emma arrived in December 1815, duly featuring a printed dedication from the author, and remains in the Royal Library. He possessed Northanger Abbey by 1819 when he had it bound.[10]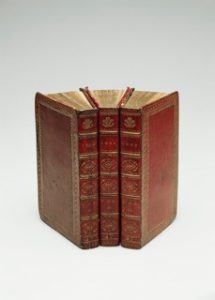 In addition, the Prince seems to have valued and maintained the physical integrity of the works. After Becket's death in 1813, Budd & Calkins became the Prince's primary booksellers and charged him 13s. 6d. to have Pride and Prejudice bound in calfskin with "gilt edges" and 3s. 6d. to "make handsomer" and gilt the edges of Sense and Sensibility.[11]
How much the rakish Prince took from the novels, and whether his inspiration tended towards the secret marriage contracts of a Mr. Frank Churchill or the more mature deliberations of George Knightley remains very much an open question.
[1] James Edward Austen-Leigh, Memoirs of Jane Austen (1869).
[2] James Edward Austen-Leigh, Memoirs of Jane Austen (1869).
[3] Royal Archives (hereafter RA) GEO/MAIN/28514.
[4] Charles Beecher Hogan, "Jane Austen and Her Early Public" in The Review of English Studies (January, 1950), 40.
[5] For Egerton's reputation see: Kathryn Sutherland, "Women Writing in Time of War" in Jane Austen: Writer in the World (University of Chicago Press: Chicago, 2017), 106.
[6] For Becket's reputation see: James Raven, The Business of Books: Booksellers and the English Book Trade 1450-1850 (Yale University Press: New Haven, 2007), 160.
[7] RA GEO/MAIN/38176 Prince of Wales to William Pitt, 11 May 1787.
[8] RA GEO/MAIN/38375 George Townshend to Captain J. W. Payne, 1 January 1789.  See also: RA GEO/MAIN/38518 and 39140 Sir John MacPherson to the Prince of Wales, 10 December 1789.
[9] RA GEO/MAIN/28549, 28551, 28539.
[10] RA GEO/MAIN/28566, 28631.
[11] RA GEO/MAIN/28577, 28578.
2 Responses
Leave a Reply
You must be logged in to post a comment.