Video: Royal Religion – George III and the American Revolution
Royal Religion: George III and the American Revolution. The Sons of the American Revolution GPP lecture 2019, by Professor Kate Carté, King's College London 21 March 2019.
The lecture and presentation begin at 12'30" into the video above.
Professor Carté discusses the American war from the perspective of George III's protestant empire.  George III's position as a Protestant king shaped the ecclesiastical policy of the empire, and also set the stage for the violent anti-Catholic riots that rocked Edinburgh and London during the war.  Using sources from the Georgian Papers as well as other manuscript sources on both sides of the Atlantic, Carté traces the strengths and weaknesses of Britain's pro-protestant politics in the Age of Revolution, and its consequences for the development of American religious freedom.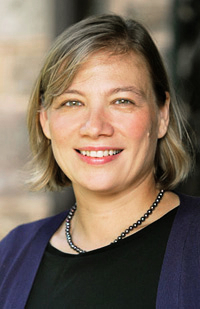 Katherine Carté is an Associate Professor of History in the William J. Clements Department of History at Southern Methodist University, Dallas, Texas, USA. Her expertise lies in early American and Atlantic history, particularly the history of religion. Prior to joining SMU in 2012, she was associate professor of history and Rothrock Fellow at Texas A&M University. She is the author of Religion and Profit: Moravians in Early America (University of Pennsylvania Press, Early American Studies Series, 2011), which was awarded the 2010 Dale W. Brown Award for Outstanding Scholarship in Anabaptist and Pietist Studies and which has been described as 'A noteworthy example of Atlantic history at its best'. She has been a Charles A. Ryskamp Fellow of the American Council of Learned Societies, an affiliate fellow of the Center for the Study of Religion at Princeton University, a Franklin Fellow of the American Philosophical Society, and a Barra Postdoctoral Fellow at the McNeil Center for Early American Studies, and is now the 2018-19 Sons of the American Revolution Visiting Professor at King's College London. Her research and teaching interests centre on the role of religion in the eighteenth-century Atlantic world, especially as it intersects with political and economic developments. Her current project, Religion Transformed, examines the impact of the American Revolution on religion and politics in the Anglo-American world.
Leave a Reply
You must be logged in to post a comment.