A Tribute to Professor Arthur Burns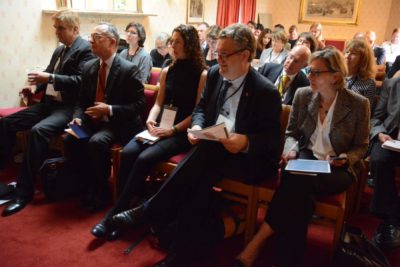 We at GPP wanted to acknowledge the passing of Arthur Burns and to say a few words about his contributions to GPP to join the other tributes to him. We hope that our words together with all the other moving testaments published by his many friends and colleagues give a sense about the huge impact that Arthur has made in so many areas.
Karin Wulf
It's hard to summarize how great it was to work with Arthur all these years on the academic and public engagement side of the Georgian Papers Programme.  In a British academic lexicon, a "scheme" is an organized (even funded) plan; in an American vernacular to scheme is to cook up the possible from the improbable.  In my personal lexicon there is no higher compliment than to consider someone an excellent co-schemer.  Arthur was the best co-schemer.  The best because we cooked up plans and even got them funded from some really improbable notions.  Also the best because we balanced each other out.  Sometimes I actually was the impulsive, outspoken American, and he really was the deliberate, circumspect Brit– but sometimes we were working that combination to good effect.  We shared an ambition and a joy for this big collaboration, for the fresh research it would support and we would find new ways to highlight.  There was nothing better than laughing and marveling about how we'd pulled something together.  An academic conference at Windsor Castle?  Sure!  Inviting the newly West London Hamilton cast to see the GPP?  Sure!  Getting the hottest (we weren't biased) play in town, Adam Penford and Mark Gatiss's brilliant take on The Madness of King George around to see the materials and then have a roundtable discussion about drama, history, and mental health?  Sure!  Gin up online exhibits and blog posts and social media?  Naturally. Of course we were working on both sides of the Atlantic with tremendous teams, at Windsor, at King's, at the OI and W&M.  And what a group of stellar professionals we learned from and had the pleasure of working with, not least the folks at the Royal Archives. 
Quite simply, I will miss Arthur more than I can say. His generosity as a human and a scholar was matched only by his sharp insights. I'm so glad so much of the work and the community and relationships we built through the GPP endures.
Patricia Methven
Arthur joined the GPP as joint director with Karin tasked with stimulating and broadening academic input, engagement and beneficial exploitation of the  then largely uncatalogued Georgian papers at the Royal Archives. He was the right man for the job. His networks were extensive and he was a ready and helpful respondent to anyone with an interest in the papers be they established academic, student, teacher or simply a member of the public expressing a leisure interest. He inevitably welcomed and helped develop suggestions for collaborative research projects and conferences.His new King's multidisciplinary course on utilising original material was popular and stimulated more than a few new research projects.
Perhaps my favourite memories of Arthur are of the quiet coffee mornings organised by Angel at King's. Here, Arthur's endless curiosity about the work of others and his ability to suggest lines of enquiry and relevant contacts was both a joy to behold and underlined the impact and value of  generous collaborative working.
Arthur was above all wonderful company and will be very much missed by many of us. It was good to have known him.
Angel O'Donnell
I had the good fortune of working with Arthur on the GPP and enjoyed many train rides to Windsor, conversations over drinks, and informal asides as we met about more practical matters. Arthur was always candid, supportive, and exuded an invigorating enthusiasm for the work that he did.
Arthur was central to GPP. At an intellectual level, Arthur had a keen insight into the archival documents at the heart of the programme. He shared his discoveries and celebrated the discoveries of others. Our understanding of the Georgian world has benefitted from his generous and discerning intellect. More broadly, Arthur inspired me with his passion for history. When he spoke about GPP, Arthur discussed it as a way to support others in their pursuit of knowledge. He was dedicated and energetic in offering this support to as many people with an interest in history as he could manage to reach.
Arthur embodied the sort of scholarly fellowship that makes me feel lucky to practice history. He was a good friend, a wise counsellor, and I will miss him.
Our thoughts go out to Arthur's family and friends as they grieve. 
Leave a Reply
You must be logged in to post a comment.