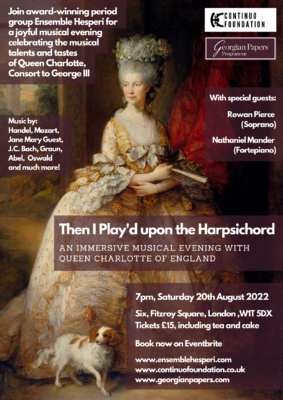 An immersive experience
Join Ensemble Hesperi for a musical evening celebrating Queen Charlotte of England, wife of George III, and her deep love of music. Arrive at our unique Georgian venue, Six, Fitzroy Square, and settle in for an informal evening of the sort Queen Charlotte loved to organise for her family and friends. While the musicians perform, you'll be able to enjoy tea and freshly baked biscuits popular in the 1760s. You may even be asked for a card game or two! A narrator will dramatise snippets from Charlotte's own diaries, and the memoirs of her lady-in-waiting, Charlotte Papendiek.
The Music
Queen Charlotte first arrived in London to marry the young King George III in 1761. On her voyage to England, a stormy journey by sea, she played and sung English songs on her harpsichord, opening the door of her cabin to cheer sea-sick passengers. Throughout the evening, soprano Rowan Pierce, will recall Charlotte's own singing through popular English songs, including Thomas Arne's 'Where the Bee Sucks' and Thomas Linley's 'Sweet the Lark'. Charlotte keenly followed musical fashion, and we know from George III's equerry, Robert Fulke Greville, that she sung a 'hit' Scots song, 'The Lass of Peatty's Mill' one evening 'very prettily'. Rowan will sing this and another Scots song popular at the time, 'The Broom of Cowdenknows'. Charlotte is also believed to have played the guitar, an instrument highly popular with women in the 1760s; Elias Sibley will perform Divertimento IX from a collection by our beloved Scottish composer James Oswald.
Charlotte was also a talented keyboard player, having studied the harpsichord from an early age. In her diary for 1788, she mentions practising almost every day: 'then I play'd upon the harpsichord' often appears just before lunch or dinner. Charlotte was able to perform tricky keyboard sonatas by J.C. Bach, and shortly after she became queen, she appointed him as her own music master. To celebrate Charlotte's love of the keyboard, forte-pianist Nathaniel Mander will perform J.C. Bach's dramatic sonata for Solo Keyboard, Op. 17, No. 2, in C Minor, and harpsichordist Thomas Allery will perform J.S. Bach's Prelude and Fugue BWV 860 in G major – Charlotte owned a beautifully bound of Bach's Das wohltemperierte Klavier in her music collection.
The queen loved chamber music, especially by German composers. She created her own band of musicians, the 'Queen's Band', which included, amongst many others, J.C. Bach's good friend and colleague, Karl Friedrich Abel. Unusually, Abel loved to perform on the viola da gamba, which the queen once described in a letter to a friend as 'that detestable instrument'! The ensemble will perform a trio sonata in G major, by Abel, Op. 3, WK 80, which he composed in 1762, two years before he became chamber musician to Queen Charlotte. In her music collection, Charlotte owned several beautifully bound volumes of operas in manuscript by German composer Karl Heinrich Graun. The ensemble will play a gorgeous trio sonata by Karl's brother, Johann Gottlieb Graun, in D major, WV Cv:XV:99.
Throughout their lives, Charlotte and George were important music patrons in public and private. The Queen herself encouraged a young composer, Jane Mary Guest, whom she later employed to teach her daughters the forte-piano; Nathaniel Mander and Magdalena Loth-Hill will perform one of Guest's Op. 1 keyboard sonatas with obbligato violin, No. 4 in G major, dedicated, by permission, to the Queen. Nathaniel and Magdalena will also perform an early sonata by the young Wolfgang Amadeus Mozart, K.14 in C major. In the 1760s, the Queen and King often welcomed musical guests at Windsor, including the young Mozart, who, aged only eight years old, performed twice for the King and Queen in spring 1764. On the second occasion, the young Wolfgang accompanied Queen Charlotte in an aria, then on the flute as a solo, and the music-making did not cease until ten o'clock at night! The Queen was delighted by Mozart's talent, and personally asked him to dedicate his Op. 3 sonatas (K.10-K15) to her.
Queen Charlotte's husband, George III, who also had a profound love of music, encouraged his wife in her music-making, and bought her several keyboard instruments over the course of their marriage. Soon after they were married, the queen started to organise surprise musical events for her husband, often to celebrate his birthday. While the King rarely played or sang in public himself, he is known to have loved the music of George Frederick Handel, which later gave him solace in his periods of illness. In a nod to this, our soprano Rowan Pierce will perform one of Handel's German arias, 'Meine Seele hört im Sehen', HWV 207.
Performers
Rowan Pierce – Soprano
Nathaniel Mander – Fortepiano
Mary-Jannet Leith – Recorders
Miriam Kazcor – Baroque Flute
Magdalena Loth-Hill – Baroque Violin
Florence Petit – Baroque Cello
Elias Sibley – Theorbo, Baroque Guitar
Thomas Allery – Harpsichord
Narrator – TBC
With thanks to…
"Then I Play'd upon the Harpsichord" is generously supported by the Continuo Foundation, and by BSECS and KCL through the Georgian Papers Fellowship awarded to recorder player Mary-Jannet Leith.