Queen Charlotte concert announced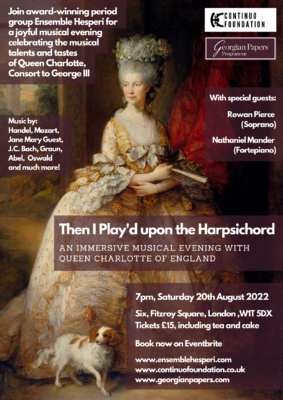 Mary-Jannet Leith, 2022 BSECS/King's College GPP fellow, has organised a concert which draws on her ongoing research into the musical life of the royal inner circle. With the generous support of the Continuo Foundation, her ensemble Ensemble Hesperi will be staging a unique concert recreating the experience of royal music making at 6 Fitzroy Square on 20 August 2022. For further details and information on how to obtain tickets, which are now on sale, please visit our Events pages, and click on the relevant announcement! And do look at other forthcoming GPP events.
Leave a Reply
You must be logged in to post a comment.